Chowing down on fish tacos, munching carpet, dining beneath the bridge, yodeling in the love canyon, lapping the labia – whatever you want to call it, cunnilingus is one of the staples of lesbian sex (and hello – any sex involving a vagina!).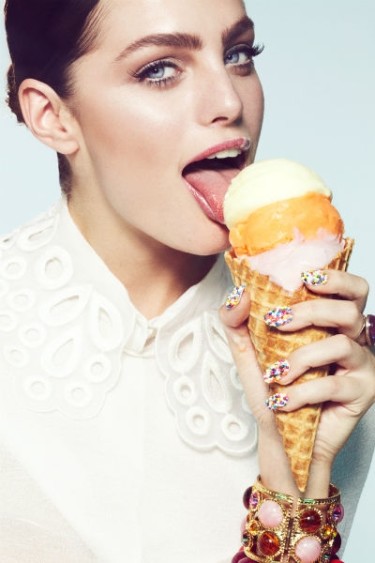 As the sheer plethora of slang goes to show, being able to tackle the tongue-wash is an essential tool for the queer girl to have in her…box. Yet this quintessential lesbian sex act is rarely talked about thanks to the trickle-down effect of overly heteronormative ideas of what "counts as sex" (a.k.a penis-in-vagina) which dictates what kind of sex education we get (a.k.a. diddly squat).
Here to supplement your lick-luster sex ed are 7 things to count down to killer cunnilingus that'll make sure you're lickin' good before you go (down).
7. Look before you lap: Pleasuring another's pussy is a lot like putting together a puzzle – something you wouldn't opt to do in the dark. So why hit the lights when licking your lover? Watch where you're going, bask in her box's beauty, and score extra points by letting her know how cute her kitty really is.
6. Speak up before you go down: In the wise words of Diana Cage in her book Lesbian Sex Bible, "You cannot have a conversation and eat pussy at the same time. Of course, many lesbians have tried, but all of them have failed".
It's awfully hard to communicate with a mouth full of muff and yet communication is key when it comes to consent and pleasure. So, ask your sweetie questions about her sweet-spots before you start tasting her sugar and verbally check in well before she starts heading to the peak of her climactic candy mountain…continue reading on CurveMag.com…