Polyamory & Open Relationships: 
Designing & Sustaining
February 22nd, 2018 // 6:45-8:45pm // Marlboro College // World Studies Lounge
*free & open to all Marlboro College students & outside college/college-aged participants*
---
Workshop Description: Despite its most prevalent stereotype, non-monogamy is not all sex, sex, sex, but is actually mostly talk, talk, talk. Unlike monogamy, open relationships rarely come with a list of pre-determined rules, so we need to make our own. But how?
This workshop offers a guide through this very terrain, introducing participants to the many different forms of non-monogamy (polyamory, open relationships, monogamish relationships, polyfidelity, etc) and helping participants create their own map through the rocky landscape that is designing a sustainable, non-monogamous relationship tailored to fit all partners involved.
Tackling common challenges unique to non-monogamy such as managing jealousy, creating solid relationship agreements, and communicating clearly about your needs and wants, this workshop serves as the perfect introductory course for non-monogamists or a useful tune-up for the in-the-thick-of-it pros.
Participants should bring a pen and notebook as each participant will walk away with a customized collection of worksheets & reflections to get them started on and/or help continue on the journey through
non-monogamy.
This workshop focuses on partnered non-monogamy styles as these are the most commonly practiced by folks new to non-monogamy however all are welcome as the skills learned in the workshop are easily applied to other styles of non-monogamy as well. Single folks, partners, couples, triads — all relationship configurations and styles welcome!
Workshop Rules:
This workshop aims to be open to all sexual identities, orientations and bodies & is taught with the belief that our sexual experiences & selves exist on a spectrum. Yana's workshops work to create a welcoming & comfortable space for all to explore crucial aspects of our holistic, sexual selves such as pleasure, communication, consent & the body. All participants are reminded to help in the creation of this safe space by refraining from substances & come-ons during the workshop and to use mindful language when asking questions or making comments.
---
 About the Presenter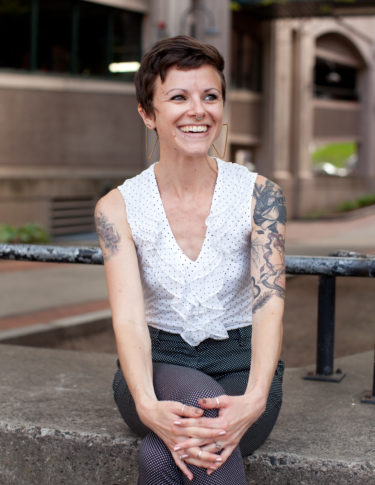 Yana Tallon-Hicks is a queer pleasure-positive sex writer and educator who's been stumbling her way through polyamorous, monogamous, non-monogamous, and open relationships for over a decade.
Yana is a relationships therapist at the Couples Center of the Pioneer Valley & the Soma Wellness Center, where she sees clients in all relationship structures, particularly surrounding issues of sex and sexuality.
Her sex educational writings have appeared in both national and local publications and can be found most regularly in her weekly sex column, The V-Spot, on the back page of the Valley Advocate.
Yana's workshops work to create a welcoming & comfortable space for all to explore crucial aspects of our holistic, sexual selves such as pleasure, communication, consent & the body using humor, relateability, and experience as key teaching tools.
Read more about Yana & her work here, where you can also read her sex advice column & watch herTEDxTalk: Is the Porn Brain Our New Sex Educator?
Find her (and her cute dog) on Instagram @the_vspot.
---
Testimonials
"Thank you! It is so important to create spaces for people to initiate their own learning and exploration of potentially scary topics (and you did so in such an open, endearing & light way!"
"Your workshop gave [my partner & I] openings and direction for some really great conversations last night and moving forward. Deeply grateful, not only for the info, but your 'style'. It's so permissive and invitational. Your modeling always helps me find my own permission to move beyond my limits and assumptions with more freedom and curiosity. You really helped me understand a more helpful framework to navigate my emotions in relationship to exploring poly". 
– Polyamory & Open Relationships // Easthampton Co.Lab // February 2016
"Wheaton Sexual Health Advocacy Group loved having Yana come and do her Polyamory 101 Workshop with our community. She was so inclusive in the content of her workshop and her language. We look forward to inviting her back to Wheaton in the future to experience more of the workshops and talks she has to offer"
– Wheaton College // November 2015