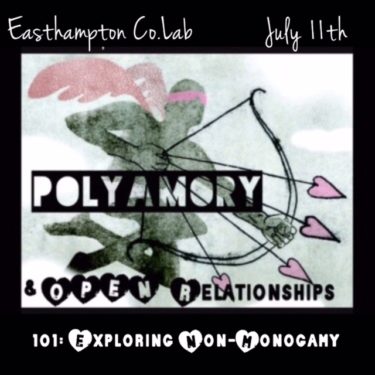 Polyamory & Open Relationships 101:
Exploring Non-Monogamy 
Monday, July 11th
6:30-8:30pm // $20 // 18+ // limited seating
at The Easthampton Co.Lab (at Eastworks) // Easthampton, Ma.
2-Class Discount Special! Purchase tickets to both Polyamory workshops (Polyamory 101 on 7/11 & Polyamory 201 on 7/25) upfront and save $5! See Eventbrite for ticket details.
---
Workshop Description:
Despite its most prevalent stereotype, non-monogamy is not all sex, sex, sex, but is actually mostly talk, talk, talk. Unlike monogamy, open relationships rarely come with a list of pre-determined rules, so we need to make our own. But how?
This workshop offers a guide through this very terrain, introducing participants to the many different forms of non-monogamy (polyamory, open relationships, monogamish relationships, polyfidelity, clopen relationships, etc) and helping participants consider if these alternatives to traditional monogamous relationship styles are right for them.
Topics will include both the joys (sexual variety! honest communication! self-growth!) and challenges (jealousy! creating solid relationship agreements! communication!) of non-monogamous relationship structures with a focus on helping students gather the tools needed to embark on their first(ish) non-monogamous experiences.
Participants should bring a pen and notebook as each participant will walk away with a customized collection of worksheets & reflections to get them started on their journey through non-monogamy. Single folks, partners, couples, triads — all relationship configurations and styles welcome!
Workshop Rules:
This workshop aims to be open to all sexual identities, orientations and bodies & is taught with the belief that our sexual experiences & selves exist on a spectrum. Yana's workshops work to create a welcoming & comfortable space for all to explore crucial aspects of our holistic, sexual selves such as pleasure, communication, consent & the body. All participants are reminded to help in the creation of this safe space by refraining from substances & come-ons during the workshop and to use mindful language when asking questions or making comments.
About the Presenter:
Yana Tallon-Hicks is a pleasure-positive sex writer and educator who's been stumbling her way through polyamorous, monogamous, open, and clopen relationships for over a decade. Yana currently studies Marriage & Family Therapy at Antioch University on her path to becoming a sex therapist. She practices couples and relationship counseling at Couples Center of the Pioneer Valley as their LMFT graduate student intern for reduced, sliding scale fees. Her sex writings have appeared in both national and local publications and can be found most regularly in her weekly sex column, The V-Spot, on the back page of the Valley Advocate. Read more about Yana on her About Me page.