KINK: a workshop about kinky sex
A yanatallonhicks.com & vvatthefuck.tumblr.com collaboration
Oh My Sensuality Shop, 122 Main St., Northampton
Monday, June 27th
7:30pm
$15
10% off same-night purchases for participants
18+ // Limited seating
>>>>>>> PURCHASE TICKETS HERE >>>>>>
Workshop Description
This demonstrative workshop will cover the essential basics of exploring kinky sex (topping, bottoming, ropes, cuffs, paddles, floggers, sensation play, and how to deliver the perfect spank!) as well as some more advanced practices (gags, collars, role playing, and more) to look forward to or begin playing with.
Going against the problematic version of BDSM portrayed in the blockbuster 50 Shades, this workshop will focus on safer kink practices including consent, negotiation, and aftercare. Participants will leave feeling more confident in their kink practices with the tools and resources to bring kinky sex into their own relationships and sex lives.
Workshop participants will be able to touch and learn about all of these kink products in a clean, comfortable educational space. The workshop presenters will demonstrate certain techniques in a way that is consensual and educational with each other for attendee viewing only (no attendee participation required in demos!).
Nervous? Watch this video about what to expect from a workshop about sex!
About the Workshop Presenters!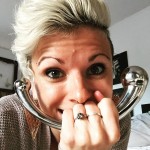 Yana Tallon-Hicks is a pleasure-positive sex writer & educator living in Northampton, Ma where she teaches consent-based sex education to teens and college students. Read more about her & her work on the About Me page.
This wor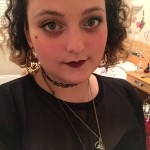 kshop will be co-taught by fellow local sex educator Deana Tolstunov! Deana is a sex educator and recent Smith College graduate where they studied women, gender, queerness, sex, and art, as well as the intersections of all of the above. They spend their time studying herbalism, concocting their own medicine, teaching workshops on consent, sex, and kink, applying copious amounts of glitter all over their body, and working at Oh My Sensuality Shop in Northampton!
Workshop Rules:
This workshop aims to be open to all sexual identities, orientations and bodies & is taught with the belief that our sexual experiences & selves exist on a spectrum. Yana's workshops work to create a welcoming & comfortable space for all to explore crucial aspects of our holistic, sexual selves such as pleasure, communication, consent & the body.
All participants are reminded to help in the creation of this safe space by refraining from substances & come-ons during the workshop and to use mindful language when asking questions or making comments. Participants who choose not to follow these rules will be asked to leave the workshop without refunding workshop fees.