Sex & sexuality education isn't always explicitly about sex. Yet it's proven to make a huge, positive impact on young people's eventual sexual decision-making, consent practices, STI transmission rate, pregnancy rates and yes – even pleasure. The Dutch approach to sexuality education at all ages is a beautiful example of this…
The case for starting sex education in kindergarten.
By: Saskia De Melker | PBS.org | May 27th, 2015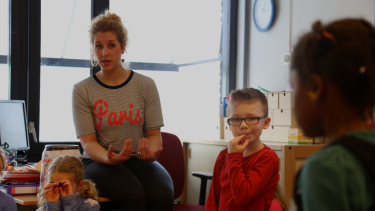 "You'll never hear an explicit reference to sex in a kindergarten class.In fact, the term for what's being taught here is sexuality education rather than sex education. That's because the goal is bigger than that, says Ineke van der Vlugt, an expert on youth sexual development for Rutgers WPF, the Dutch sexuality research institute behind the curriculum. It's about having open, honest conversations about love and relationships."

"The Dutch approach to sex ed has garnered international attention, largely because the Netherlands boasts some of the best outcomes when it comes to teen sexual health. On average, teens in the Netherlands do not have sex at an earlier age than those in other European countries or in the United States. Researchers found that among 12 to 25 year olds in the Netherlands, most say they had  "wanted and fun" first sexual experiences. By comparison, 66 percent of sexually active American teens surveyed said they wished that they had waited longer to have sex for the first time. When they do have sex, a Rutgers WPF study found that nine out of ten Dutch adolescents used contraceptives the first time, and  World Health Organization data shows that Dutch teens are among the top users of the birth control pill. According to the World Bank, the teen pregnancy rate in the Netherlands is one of the lowest in the world, five times lower than the U.S. Rates of HIV infection and sexually transmitted diseases are also low"….continued here.