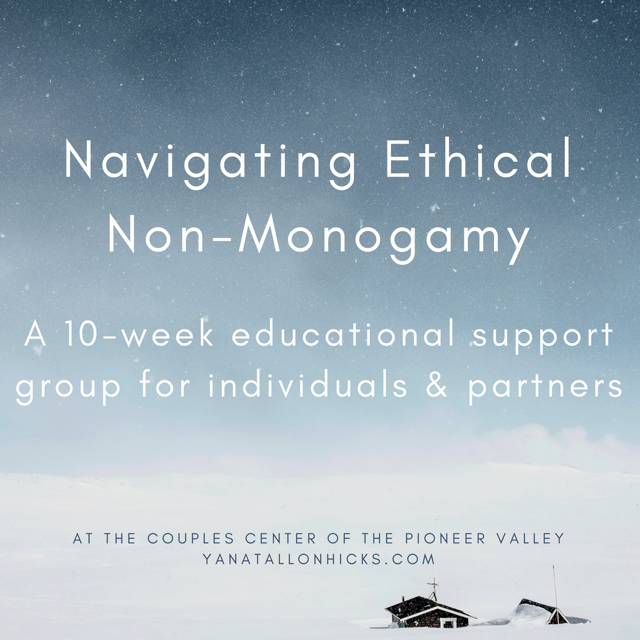 Navigating Ethical Non-Monogamy
Educational Support Group
10 Weeks / $35 per person per group / 10 group members maximum
Sundays / 4-5:30pm / *NEW DATES!* February 4th through April 15th
at The Couples Center of the Pioneer Valley in Downtown Northampton
---
*FREE ONLINE INFO SESSION – 2 times to pick from*
Sign up for either info session here:
12pm noon on Tuesday, January 16th
or
---
How to Join this Group!
1. Fill out & submit this form
2. Have a brief 10-15 minute screening call with group educator Yana Tallon-Hicks to determine goodness of fit and group eligibility
This is not a public, drop-in group. Permission to join this group is not guaranteed. 
__
About the Group
Navigating Ethical Non-Monogamy is a 10-week educational support group for individuals, couples, and partners seeking support, skills, and self-growth around topics related to non-monogamous relationship styles such as polyamory, open relationships, and other forms of ethical non-monogamy. This group is led by individual & relationships therapist and sex educator, Yana Tallon-Hicks.
Group Schedule & Themes
Navigating Ethical Non-Monogamy will meet once per week, on Sunday afternoons for 90 minutes from 4-5:30pm. The first group will be held on February 4th, and the last group will be held on April 15th, with no group held on March 11th.
Each week's group will be centered on a theme dedicated to bolstering participant relationship satisfaction, personal growth, and communication skills as specifically relevant to non-monogamous relationships. Each group will contain time for psychoeducational components led by the group educator Yana Tallon-Hicks, time for group sharing and peer support and validation, and a homework assignment for the week. Each participant will be asked to purchase 3 books on a booklist to read as part of the group.
The group's weekly theme schedule can be found here.
Who Can Attend?
This group welcomes everyone engaged in or interested in engaging in ethically non-monogamous relationships, with a focus on those new to non-monogamy and/or struggling with this relationship structure's unique challenges and dynamics. All sexuality and gender identities are welcome in this space and respect for group member's personal identities is required. You do not need to be partnered to join this group. Partners are welcome to attend this group together.
Group Fees 
The group will be open to new members for the first 2 sessions before becoming a closed group. The group will only continue with at least 6 participants attending regularly and will not exceed 10 participants. Each group costs $35 per person, per session.
To make this group as financially accessible as possible, payment is due at the start of each session. However, after the 2nd session, this group becomes a closed group and group members will be asked to commit to the remaining 8 sessions to preserve the therapeutic group dynamic.
If at any point you decide to stop attending group after the 2nd session, your credit card on file will be charged for the remaining sessions ($280 for 8 sessions) as your space has been reserved for you. All payments are non-refundable whether or not you attend for the duration of group. Group members may make payments via check, cash, card, or Venmo/PayPal.
Sliding scale inquiries can be directed to Yana at y.tallonhicks@gmail.com and detailed group policies can be found here.
Sign Up!
Hopeful group members are required to fill out this brief intake form, and must have a 15-minute confidential screening call with Yana in order to determine if this group is a beneficial fit for you and the group before you attend the first group on February 4th.
---
About Yana Tallon-Hicks, Group Educator
Yana Tallon-Hicks, MA, brings her unique comfort with and knowledge of sex and sexuality issues to the individuals, couples, and relationships she works with.
Yana works with clients from all backgrounds and relationship styles, especially including LGBTQQ couples & those 
in non-monogamous relationship structures. She takes a collaborative, active approach to both individual & relationship therapy to help clients become unstuck from ruts, break old unhealthy patterns, communicate more effectively, resolve relationship crises, and learn more about themselves as partners and as people.
Couples & partners come to Yana for therapy in all states: fine-tuning an otherwise happy union, distraught after trust has been broken, considering a break-up, recovering from an affair, or just wanting to learn new relationship skills. Wherever your relationship is, that's where she'll meet you.
Individual clients often attend therapy with Yana to work on issues related to sexuality & relationships, however all areas of personal growth are welcome. Yana offers therapeutic assessments and letters for gender affirming hormones and surgeries under the informed consent model.
Discernment Counseling is also available. Discernment counseling is a brief (1-5 sessions) & distinct style of relationship therapy for partners on the brink of a split or otherwise struggling to make a decision to commit to couples therapy or not. Learn more about Discernment Counseling here.
Yana holds a Masters Degree in Marriage & Family Therapy from Antioch University and her Bachelors degree in LGBTQQ and sexuality studies from Hampshire College. She uses the Developmental Model of Couples Therapyand Cognitive Behavioral Therapy in her work with flexibility and an open mind to each person's individual experience of the world around them.