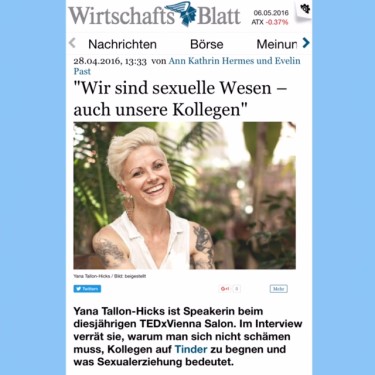 I don't speak German! But I was covered in Austrian newspaper Wirtschafts Blatt for my talk at TEDxVienna!
**
Yana Tallon-Hicks ist Speakerin beim diesjährigen TEDxVienna Salon. Im Interview verrät sie, warum man sich nicht schämen muss, Kollegen auf Tinder zu begnen und was Sexualerziehung bedeutet.
Im Rahmen der TEDxVienna findet am 6.Mai derTEDxVienna Salon statt. Das diesjährige Motto lautet "The future of intimacy". Wir haben im Vorfeld mit einigen der Speaker gesprochen.
Yana Tallon-Hicks:
Über das Thema Sexualerziehung wird heutzutage zu wenig gesprochen, das ist gefährlich. Darüber hinaus wird das Thema nicht differenziert betrachtet und oftmals mit Angst verknüpft. Dabei ist
Sex
viel mehr als nur der Geschlechtsakt an sich verbunden mit dem Gedanken "hoffentlich passiert nicht Schlimmes".
Sexualerziehung ist und sollte viel weiter gefasst werden; da geht es nicht nur um sexuell übertragbare Krankheiten, Heterosexualität und Reproduktion. Die LGBTQ(Lesben, Schwulen, Bisexuelle, Transgender und Queer-(Lesben, Schwulen, Bisexuelle, Transgender und Queer)-Community oder die Fragen nach Gender-Identitäten, Macht, Werte und Kommunikation gehören genauso dazu…
if you speak German: continue reading here!
---
Let's talk about sex: Northampton woman to teach consent-based sex ed. class at Lighthouse Holyoke
When it comes to sex, there are endless metaphors to allow for indirect conversations tiptoeing around the subject. An educator based in Northampton seeks to encourage people to broach the subject directly.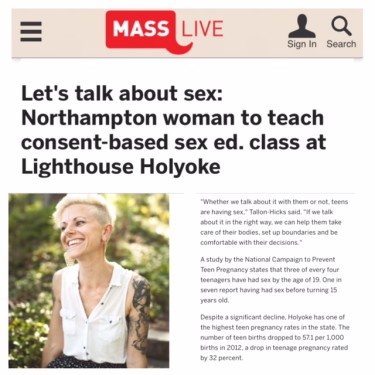 "It is not really a surprise that we are bad at talking about sex openly," Yana Tallon-Hicks said. While unsurprising, Tallon-Hicks said it isn't helpful. "We're not doing a service to kids if we're using vague language and being blurry, especially with so much on the Internet."
Tallon-Hicks plans to teach a semester-long sex education course at Lighthouse Holyoke, an alternative education program for teens that opened this fall. She works as a sex educator, teaching workshops for teens and college-aged adults, and writes a column "The V-Spot" for The Valley Advocate.
The course will include conversations on how teens can take care of their changing bodies, methods of contraception and healthy dating relationships.
While the workshops will cover such traditional health class topics, she said it won't include a typical "birds and the bees" talk. The class will also offer frank discussions on sexual orientation, gender identity and how to ask for and give consent…continue reading…
---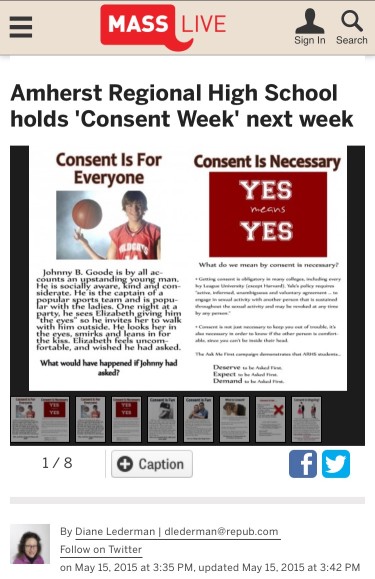 Amherst Regional High School holds 'Consent Week' next week
Students at the Amherst Regional High School next week will learn about a healthy dating culture as three clubs have collaborated to create Consent Week.
The message from the Women's Rights Club, Man Club, and Gender Sexuality Alliance "is that everybody deserves to be asked first so that nobody is touched in any way that they do not want to be touched," according to the letter sent to parents and guardians from Ben Levy English teacher, Women's Rights Club and Man Club Advisor.
"We are not assuming that students are sexually active, or that they should be. We want to teach lessons about consent before they are. Indeed, consent is important no matter what they are doing," he wrote.
"We recognize that having conversations of this type may be difficult for some students. For this reason, we have taken a number of institutional precautions to ensure that all of our students have a positive experience…continue reading…