Beyond Inclusivity: Understanding Trans Identities for Parents & Professionals
Workshop description: We've all heard buzz words like "safe space" and "trans inclusive," but do we really know how to take action to make our homes, classrooms and workspaces genuine safe spaces for transgender people?
This workshop will give cisgender parents, teachers, and other professionals the language and tools to support transgender individuals personally and professionally. Even when we know the importance of supporting transgender people in our lives, it can be hard to know exactly how our support is needed. This workshop will give you the tools and language to start (or continue) your allyship work, as you support, advocate for, and empower transgender individuals in your lives.
Participants will walk away with a deep and broad understanding of struggles trans individuals might face, such as using gender appropriate bathrooms or filling out paperwork with only two gender options, the language to address these struggles, and hands-on, realistic, real world strategies for addressing them. In this workshop, we will dismantle the gender binary, practice pronoun usage, discuss etiquette surrounding trans identities, brainstorm strategies for disrupting transphobia, and of course, have plenty of time to get all of your questions answered.
Objective: This workshop will give cisgender parents and professionals the language and tools to support trans individuals in their lives and workplaces. This workshop will help cisgender people break down the gender binary, understand gender diversity and transgender identities, and create solid, working allyship toolboxes.
Who is this Workshop For?
Cisgender parents and friends of trans people who want to understand how better to support their children and loved ones, teachers and other professionals, especially those who work with children and young adults, who want to create safer, more inclusive spaces in their classrooms or other workspaces. Cisgender folks who have questions about what it means to be transgender, or anyone who doesn't know what cisgender means!
About the Presenter
Emmett DuPont (they/them), is Yana's Sex Educator Intern and a first-generation college student at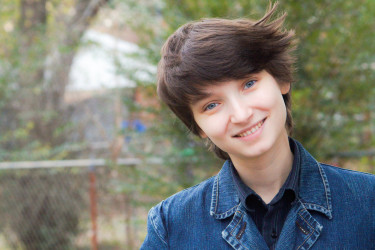 Hampshire College and a lifelong unschooler.
Emmett is fourth-generation queer spawn, and is a program facilitator and organizer at COLAGE, the nation's largest community for children of LGBTQ- and polyamorous-parented families. They have presented at True Colors Conference, run programming for LGBTQ youth, and are a sex ed facilitator.
Emmett currently works at Civil Liberties and Public Policy, a reproductive justice and abortion rights organization. Emmett lives at intersections of queerness, transness and disability, and is an enthusiastic educator around these and other topics. In the future, Emmett hopes to pursue social work with transgender youth and continue their work around queer, trans and sex education.
This workshop can be held for your group of parents, professionals, or a mix of both at your space or an outside space booked by us. Please contact us with any questions.