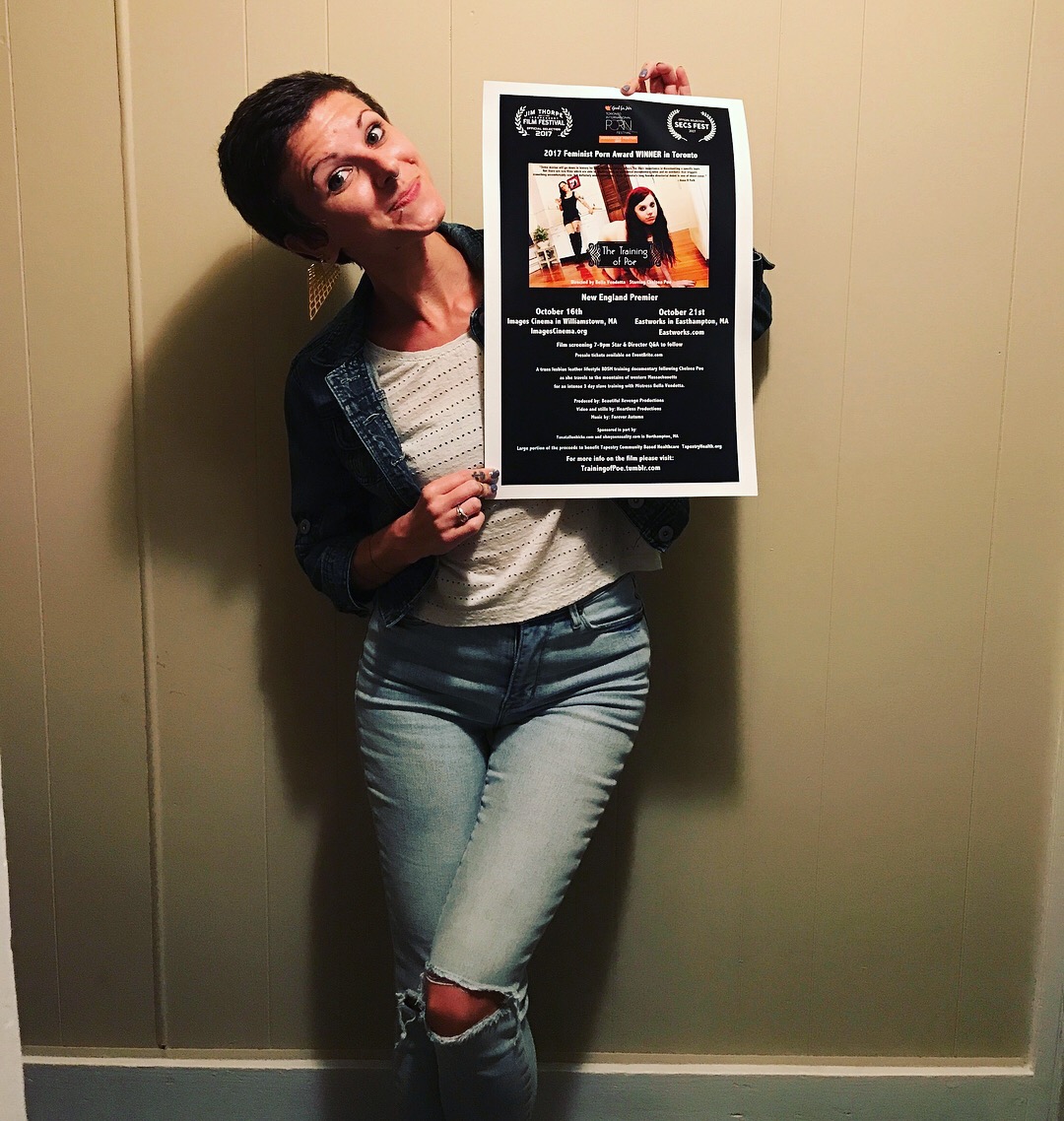 It's not what you'd expect — this whole watching porn in a room full of strangers with your friends thing. On Saturday night, in an expansive room of the Eastworks building, about 50 of us did just that. And it was a wicked good time.
The Training of Poe is an award-winning documentary-style erotic film shot in the beautiful hills of Western Massachusetts. The indie porn/documentary hybrid (docuporn?) follows the two-day BDSM submissive training of Chelsea Poe at the instruction of local professional and lifestyle dominatrix Bella Vendetta.
Heavy on power play, and low on overt penetrative sex acts, the film takes viewers through a lovely arc of intentional consent negotiations, playfulness, tenderness, sexiness, and really at many points, downright humor.
Vulnerable and self-assured in both their work and in person, Chelsea Poe and Bella Vendetta nearly charmed the pants off us, and watching the film in their company complete with a Q&A was one of my favorite things I've done this fall. Lucky me, I got to have a little chat with Bella Vendetta afterwards.
Yana: What are three things you hope people take away from watching the Training of Poe?
Bella: 1.) That BDSM doesn't always have to look like Fifty Shades of Grey.
2.) That sexuality and sex can go far beyond traditional orgasms.
3.) The natural beauty of Western Mass and how unique fetish films made here are.
Yana: How did you get started doing this work and what motivates you to keep doing it?
Bella: I got started by doing a formal training at the world's oldest BDSM training chateau. Messages I get from students and retirees alike thanking me for opening their minds up to new ways of thinking about sex and sexuality is what makes me want to keep going.
Yana: What's the hardest part of this work?
Bella: It's just so much WORK — actual labor that's exhausting. The stigma that goes along with this work because you're a sex worker can get overwhelming. Then, most folks don't view your work as actual work, so it's a constant fight for legitimacy.
Yana: In what ways do you think watching smut is positively sex educational?
Bella: For the queer community, it's one of the only places where we can see our sexualities being played out in an authentic way.
Yana: How do you prioritize consent in these projects and how can we apply that to our real, everyday sex lives?…continue reading on ValleyAdvocate.com where you can also watch a NSFW trailer of the Training of Poe…